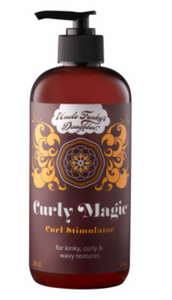 Flex your supercurl muscle naturally with Uncle Funky's Daughter Curly Magic Curl Stimulator, an aloe-based, firm hold curl enhancing gel.

Curls become more defined and manageable with a nourished, brilliant shine. Curly Magic delivers superior results of taming frizz, elongating curls and adding moisture all in one powerful product.

Achieve a wash and go look, wear two strand twists, twist outs, comb twists, finger twists and starter locs. For best results, use with Squeaky Deep Cleanser, Richee Rich Moisturizer and Thirsty Curls Revitalizer for the next day.