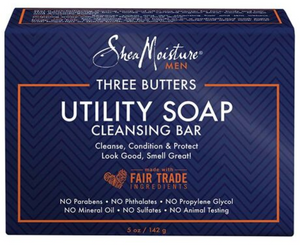 Men who require more than just plain old soap for their skincare regimen can appreciate a soap that includes not one, not two, but three types of quality natural butters that infuse a man's skin with the level of nourishing moisture he needs to look fresh-faced and ready to take on the world.
Our rich-lather SheaMoisture Three Butters Utility Soap can be used as a general facial cleanser, a premium shaving soap and an all-in-one cleanser for face, body and hair. This nutrient-rich bar soap is specially formulated with ultra-moisturizing certified organic Shea Butter, Cocoa Butter Avocado and Mango Butters for an ultra-rich cleansing experience.
All of these awesome ingredients work in unison to remove sweat and dirt from the surface while cleansing hair and skin without stripping away natural oils. It even delivers a close shave so you can put your best self forward.